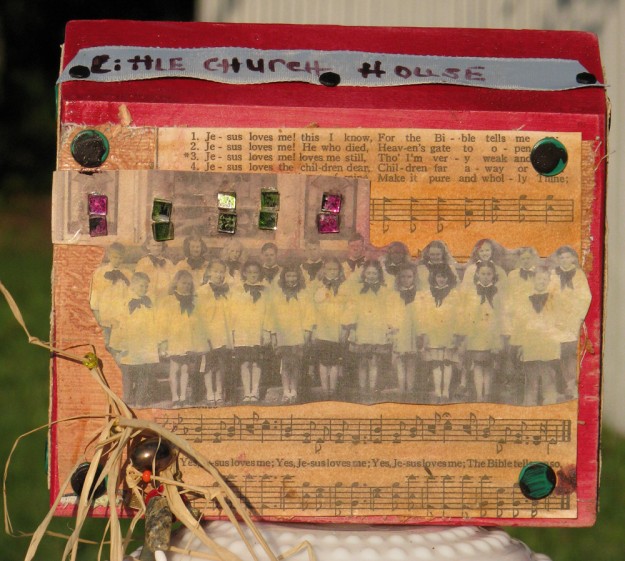 HOW IT BEGAN

As the child of sharecroppers, I was raised in a log cabin, on a tobacco farm in North Carolina.

My childhood toys were made of common things.
I collected acorn tops for my teacups, and
broken bits of household dishes completed my tea set.

"Playing House" took place in imaginary rooms with imaginary walls defined by rows of leaves and twigs.

I was in love with feathers, nests, cherries, rain, Milk of Magnesia blue glass pieces, colored leaves, and twig dolls.

My best friend was a mop.
I longed to be a cowgirl.

I collected everything I thought was beautiful, and I saved it all in my uncle's empty cigar boxes.

This is how I made magic in my isolated life.

I woke to the sound of birds bathing outside my bedroom window, and I fell asleep to the lyrical sound of the voices of my mother, my aunts, and my grandmother.

This is how I write the words of childhood memory.

This is my search for mystery in my everyday life.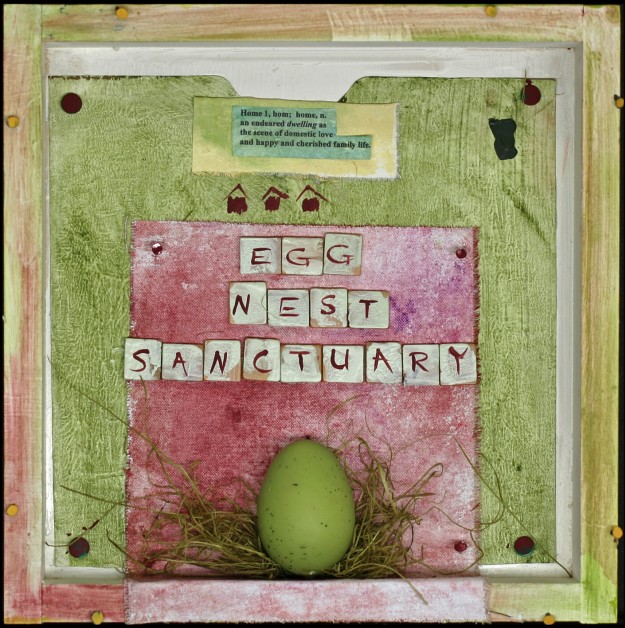 THIS IS HOW IT CONTINUES.
I am concerned with the loss of mystery and holiness in our daily lives.
MY work as a mixed media artist is based on my search for personal images and mystic symbols.
It is my desire to make the viewer more aware of his own vision and to bring him closer to his own mystery.

My current work consists of alters, shrines, vessels, and boxes.
They contain found objects, universal images, personal icons, and my personal text.

THIS IS WHAT HAPPENED

Awards
Coconut Grove Art Festival
The Plaza Art Festival, Kansas City, MO
Winter Park Autumn Art Festival
Mayfaire By the Lake, Polk Museum, Lakeland, FL
Etc.

Permanent Collections
Polk Museum, Lakeland, FL
Orlando International Airport, Orlando, FL
Florida Artists Permanent Collection,
Sun Bank, St. Petersburg, FL
New Smyrna Beach Public Library, Art in Public Places, Volusia County, FL
Women's Project, Christ Hospital, Jersey City, NY

Published
"Basketweave" LaPlantz Publishing

Exhibitions and Shows
Clay and Fiber Forms Center of Modern Art, Gainesville, Fl.
"Natural Florida" Exhibit, Center for the Arts, Mt. Dora, Fl.
"Small Works, 18th Annual Exhibition, Valencia Community College, Orlando, Fl.
"Craft For the Senses" Fl.Craftsmen area IV
"A Company of Women" Ridge Art Association, Winter Haven, Fl.